All the Fun of the Fair: 135 Years of The Hoppings
The history of the Hoppings...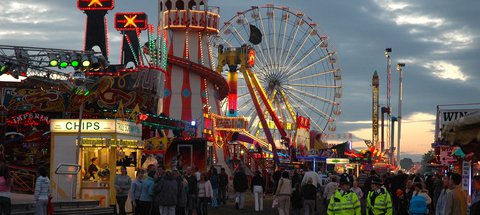 Saturday 3 June - Saturday 30 September
Times
Weekdays 10am - 4pm
Weekends 11am - 4pm
Price
Free entry, donations welcome
Vintage amusement machines: £1 for 5 old pennies
All the Fun of the Fair will chart the history of Newcastle's much-loved Hoppings fair, first held on the Town Moor as a Temperance Fair in 1882. From the involvement of the Showmen's Guild to the memories of generations of Hoppings patrons All the Fun of the Fair will take a closer look at the traditions and way of life of the showmen and women behind the Hoppings.
Play with our unique collection of 50 vintage coin-operated amusement machines and find out your fortune...
The exhibition will also feature artwork from the Laing Art Gallery, items from the Arthur Fenwick collection in Tyne & Wear Archives, and many nostalgic photographs.
Photograph: The Hoppings, 2008. Image courtesy of Nick Lambert.