Newcastle Story
Travel through time and find out about the people and places that have made this city what it is today.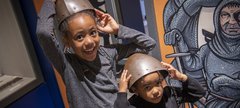 Times
Weekdays 10am - 4pm
Weekends 11am - 4pm
Price
Free entry, donations welcome
Walk the streets of Newcastle through the years, from Roman times up to the early millennium, stopping by the homes, communities and businesses of the past.

See the Norman castle that give Newcastle its name, take a look at the city's Victorian past, learn more about Newcastle's effort in supporting both World Wars and groove away as the swinging 60s swept through the toon.