Enigma & the North East
The story of Enigma & how the North East played a part in cracking the code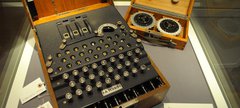 Times
Weekdays 10am - 4pm
Weekends 11am - 4pm
Price
Free entry, donations welcome
See a rare Enigma machine, used to code secret messages during WW2. Find out how people from the North-East played a vital role in helping the codebreakers at Bletchley Park.
The small display at Discovery Museum will tell the stories of Tyneside-built ships HMS Bulldog and HMS Petard, which were both involved in the salvaging of material from German U-boats vital for the teams at Bletchley Park to break the German Navy Enigma.
Tommy Brown from North Shields volunteered to assist in the seizing of material from one of the U-boats. The retrieval had an immediate impact on the outcome of the War, not least on Allied fortunes in the Atlantic.