Armstrong's to the Arctic: The 100th Anniversary of the Icebreaker Krasin
This is a historic exhibition. It is no longer available to visit and this page is only retained as a record of the previous event. For current and future exhibitions, visit our
What's On
page.
Celebrating the history of the Tyneside built icebreaker ship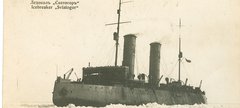 Until 13 November 2016 (historic exhibition)
This collaborative exhibition celebrates the history of the icebreaker ship from the construction of the Sviatogor on the River Tyne, through its rebirth as the Krasin, its heroic participation in the Arctic Convoys of WWII, to its current incarnation as a museum ship on the River Neva in St Petersburg, Russia.
Armstrong's to the Arctic: The 100th Anniversary of the Icebreaker Krasin is a collaboration between Discovery Museum, the Museum of the World Ocean in St Petersburg, and the British Consulate General St Petersburg.