Armed Forces Day 2021
This is a historic exhibition. It is no longer available to visit and this page is only retained as a record of the previous event. For current and future exhibitions, visit our
What's On
page.
A celebration of England's Northern Cavalry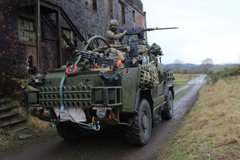 26 June 2021 (historic exhibition)
To mark Armed Forces Day Discovery Museum is celebrating the launch of the new online 360 Virtual Tour of Charge! The Story of England's Northern Cavalry gallery.
Charge! charts the 300-year history of England's Northern Cavalry, the Light Dragoons and its antecedent regiments. It also tells the story of the Northumberland Hussars from its formation in 1819 to becoming part of the Queen's Own Yeomanry.
The new online Charge! Virtual Tour features films from actively serving soldiers and military experts delving deeper into the stories of the gallery. allowing people to navigate the gallery on their own device. The online tour can be enjoyed remotely and enhances the in-person gallery experience too.
Also launching on Armed Forces Day is the new exhibition in the Charge gallery, In Times of Emergency, a look at how The Light Dragoons have responded to national emergencies at home.
On Armed Forces Day 26 June visitors can:
Get up close to two fully kitted reconnaissance Jackal vehicles on the outdoor plaza
Be the first to see the new Charge! gallery exhibition In Times of Emergency.
Meet serving members of the Queen's Own Yeomanry and The Light Dragoons on the outdoor plaza and see examples of their equipment
Meet military experts in the Charge! gallery, all of whom have served substantial terms in the Army and who can share stories and insight into the Regiments' intertwined histories