Virtual Tour: Charge! The Story of England's Northern Cavalry
With expert films, object highlights and serving soldiers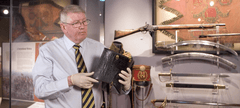 Dive right in and explore the stories in the Charge! The Story of England's Northern Cavalry gallery from the comfort of your own device in this 3D tour.

The online Charge! Virtual Tour delves deeper into the stories of the gallery and features films from serving soldiers, military experts and curators allowing you to navigate the gallery from any location in the world on your own device.
The online tour can be enjoyed remotely, but also enhances the gallery experience.