Turbinia
Once the fastest ship in the world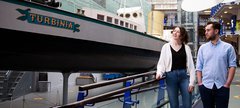 Times
Weekdays 10am - 4pm
Weekends 11am - 4pm
Price
Free entry, donations welcome
Charles Algernon Parsons was born in 1854 and first came to Newcastle in 1877 to work at Armstrong's factory. He built his first steam turbine in 1884 and later developed turbines to power ships.
In 1894 he built the world's first steam turbine powered ship, Turbinia, which changed the face of maritime history and in 1897 was the fastest ship in the world. At 32 metres long, she now dominates the central hall at Discovery Museum.
The same principle Parsons used to invent his steam turbine is still powering our schools, homes and work places around the world today.
Charles Parsons' daughter Rachel was an engineering trailblazer in her own right - watch this film with historian Henrietta Heald and find out more.