KS1, KS2, KS3, Science, Local History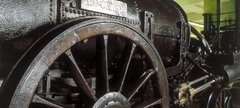 Maximum number per group: 32
Cost of Workshop: £90
Students will explore Stephenson's Rocket and the story behind this famous locomotive. They will discover the science behind steam engines, learn about the Rainhill trails and investigate Rockets rivals.

Taking inspiration from Rocket and the Rainhill trails students will build their own transportation using air pressure. They will test and record their results entering their creation into the Discovery Trials. They will then have the opportunity to make any changes to their design in order to make them go faster and further before final testing.
* some of the content between Rocket Car Racers and Stephenson's Rocket are similar. We don't recommend that groups book both of these sessions.