Making Waves: Unlocking our Sound Heritage
An online audio exhibition with Google Arts and Culture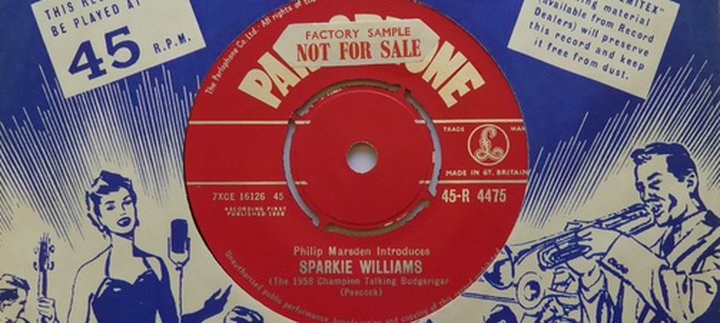 Experience to the Unlocking our Sound Heritage exhibition here.
1. Geordie Pride
26 secs, [TWCMS : 2000.3724.1]
Interviewee:
Everybody who was born within the Tyne, the River Tyne. It's…every Geordie loves the Tyne, because like I say it's their life's blood and the bridges are their backbone and that's what makes Geordies different from anybody else. Once you're a Geordie you're never anything else.
2. Opening of the Tyne Bridge, 1928
1 min 06 secs, [TWCMS : 2001.2820.1]
King George V:
The Queen and I thank you for your loyal and dutiful address and words of cordial welcome.
It's a great pleasure to us to visit Gateshead on the occasion of opening the new bridge which so nobly spans the River Tyne and forms another great highway between the two counties.
I'm happy to recall a visit made to the ancient town of Gateshead by my dear father when he opened the King Edward the VII bridge.
The civil ceremony which we are today performing forges a fresh link in the chain associating my family with this Tyneside town.
3. Coal Transportation
30 secs, [Darlington Centre for Local Studies U400a]
*Sound of industrial noises*
Narrator:
The noise of coal trucks clanking and clattering, and of tons upon tons of coal pouring down a shoot into the hold of a ship at Seaham Harbour.
4. Miners' Strike, 1984
1 min 10 secs
TWCMS : 2002.172.1
Interviewer:
A lot of the time during the '84 strike it was the wives and the women who were doing amazing things.
Interviewee:
Oh, they were brilliant.
Interviewer:
Tell me a bit about that, what went on?
Interviewee:
They went round the different shops and we got packages, what you call your food parcel and what have you. Different people donating, different unions which…the unions were good to us.
A lot of people round the doors were good to wor.
A lot of people on the picket line were coming up, this butcher, I cannit think of him, I wish I could think of his shop.
He come up one day with about fifty food parcels of meat and he says I've got to get rid of this meat today, he says I cannit sell it in my butcher shops, can you use that tonight?
There was sausage, black pudding, chops, and I actually got a meal out of four, with a plate of chips, couple of tatties and we got a meal for four of wor out of that little food parcel.
Then the milk man, he used to drop odd pints off milk off for our tea every day, and things like that.
There was, we got a lot of good support.
5. Munitionettes
1 min 02 secs, [TWCMS : 2000.6093.1]
Interviewee:
The First World War broke out and I came home, and I went on munitions.
Interviewer:
Now where was this at?
Interviewee:
Lemington Point.
Interviewer:
Uh huh
Interviewee:
And I filled 9.2 shells in one department…
Interviewer:
Yeah
Interviewee:
…and anti-aircraft in the other department.
Put you from, you know…
Interviewer:
Yeah
Interviewee:
…they put you from shop to shop.
And I was there until I was married.
Interviewer:
Uh huh
Interviewee:
I met my husband on Lemington Point.
He was an inspector, and I met my husband on Lemington Point.
So, er, I only met him in the April and I was married in the August.
Interviewer:
And how old were you then?
Interviewee:
Twenty, nearly twenty
Interviewer:
Nearly twenty
6.Sounds of the Seaside
33 secs, [University of Sheffield Action Space Extended MS 426]
*indistinguishable male and female voices*
*Children laughing and shouting*
*Waves on the beach*
Child:
Climb to the top
Right up to the top
Ah, nearly there now
7. The Town Moor Festival, 1992
39 secs, [TWAM 3729]
Lord Mayor of Newcastle:
I would like to thank the showman for the pleasure that they do give to ordinary citizens and also thank the Freemen for their co-operation of making this available, the Town Moor, for this purpose.
I have great pleasure in proclaiming the Town Moor Festival open; thank you.
News Reporter:
The Lord Mayor of Newcastle, Bob Cook, officially opening the Hoppings, Europe's largest non-permanent fair, here at the Town Moor.
It's got everything a good funfair ought to have. Numerous so called anti-gravity rides, a ghost train, carousels, the love tunnel, candy floss, beef burgers, you name it, it's here.
8. F.A.Cup Final, 1951
25 secs, [Darlington Centre for Local Studies U400a]
Commentator:
And Newcastle are attacking again.
Garrett moves forward to challenge Walker, but the winger slips the ball inside to Taylor who is only 25 yards from the goal.
The Blackpool defence have fallen back, there's a wall of defenders there now in front of the Blackpool goal.
The little inside man is hesitating, he doesn't seem to know what to do next.
Yes, he's back-heeled the ball, Milburn is there, he shoots, it's a goal!
What an amazing goal that is for Newcastle, the ball came off the man's foot like a rocket.
Narrator:
Yes, it was a goal.
Yet another of those golden goals from the feet of Jackie Milburn, which set Tyneside alight in those bleak post-war years of the late 1940s and 50s.
That particular one was against Blackpool in the first of their FA Cup final victories of the 50s.
9. Great North Run, 1990
1 min 14 secs, [TWAM 3729]
Commentator 1 (Colin Briggs):
Three-two-one, and they're off. The Great North Run for 1990, the tenth run is underway and they're off.
The leader at this stage is Frank Bruno, who started off at a sprint, believe me, I can't see Frank keeping that up for the whole of the race.
Reporter:
The start of the Great North Run as described by Sport FM's Colin Briggs.
The fine sunny Sunday afternoon brought the best in everyone and records came tumbling down all over the place, not only in the men's race but in the wheelchair event as well.
At the finish to see Australia's Steve Moneghetti cross the line first were two of the sports team, Colin Briggs and John Curns.
Commentator 1:
Is he going to make it? They are so desperately close to a record.
He's probably got about fifty yards to go, He's coming round the corner, a great, great shout from the crowd, thirty seconds.
He's coming across the line. Yes, unofficially we have got a new record for the Great North Run.
Commentator 2 (John Curns):
Douglas Wakiihuri of Kenya who will finish second in this 1990 Great North Run.
The winner was Steve Moneghetti of Australia.
And here comes Douglas Wakiihuri as I peer at the clock, it says one minute...one hour, one minute and 41 seconds, unofficially.
10. Sparkie Williams
28 secs, [NEWHM : 2007.H79]
Sparkie:
My name is Sparkie Williams, 34 Garden Drive, Forest Hall, Forest Hall
They call me pretty Sparkie, I'm just a little bird but I can talk and chatter all the day.
Nursery rhymes…had a little lamb, it's fat as black as soot and everywhere that Mary went his sooty fatty, patty pat pat.