Enthusiasts Early Opening: It's Rocket Science
This is a historic exhibition. It is no longer available to visit and this page is only retained as a record of the previous event. For current and future exhibitions, visit our
What's On
page.
A relaxed session for engine and railway enthusiasts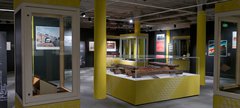 11 August 2018 (historic exhibition)
29 August 2018 (historic exhibition)
We're hosting several relaxed early openings for engine and rail enthusiasts.
This is a great opportunity to explore It's Rocket Science an hour before we open to the general public, providing a quieter experience.
Robert Stephenson's 0-2-2 locomotive Rocket & Exhibition
Robert Stephenson's iconic steam locomotive Rocket returns to Tyneside, on loan to Discovery Museum from the Science Museum Group, as part of Great Exhibition of the North, 22 June - 9 September.
This summer get up-close to one of Britain's (if not the world's) most famous feats of engineering, that was made right here in Newcastle. Manufactured in 1829 at the Robert Stephenson & Co. locomotive works, now the site of the Stephenson Quarter behind Central Station, this is the first time that Rocket has returned to its birth-place since it was presented to the nation 156 years ago.
Find out how this historic engine's ground-breaking design heralded the birth of passenger railways and celebrate the North's world-famous industrial heritage and innovative spirit.
The accompanying exhibition will share more detail around the origins of the railway, Rocket's rise to fame and legacy, and stimulate ideas around the direction transport may take in the future. Object highlights will include a judge's notebook from the Rainhill Trials (October 1829) and preserved remains of a section of North Tyneside's Willington Waggonway, the earliest standard gauge waggonway yet discovered, dating from the late 1700s.
We'll also make links to another transportation world-first, Charles Parsons' steam turbine powered ship, Turbinia. Built in 1894, measuring 32 metres long, she changed the face of maritime history and at one time was the fastest ship in the world. This is a unique opportunity to see these two internationally renowned innovations side-by-side in our central hall as you enter the museum.
It's Rocket Science has been made possible thanks to the Science Museum Group and money raised by National Lottery players through the Heritage Lottery Fund (HLF).
---
George Stephenson

Railway engineering was in Robert Stephenson's blood, as the son of Wylam born engineer George Stephenson who is considered the 'Father of Railways'.
His contribution to rail engineering will be honoured at Stephenson Railway Museum, North Shields, as part of The Great Exhibition's 'Inspired by' programme.
Visit this summer to marvel at 'Killingworth Billy', now determined to be the world's third oldest locomotive and the world's oldest surviving standard gauge (4 ft 8½ in) steam locomotive.
---
Presented as part of:

Great Exhibition of the North 22 June - 9 September
Hosted in NewcastleGateshead, on behalf of Northern England, Great Exhibition of the North will be the biggest event in England this year. It is free to attend and will tell the inspiring story of the North of England and how its innovators, businesses, artists and designers have shaped our present and are inspiring our future. Visitors will begin their journey at one of three iconic venues – Great North Museum, BALTIC Centre for Contemporary Art or Sage Gateshead – before joining three trails through world-class venues and public spaces. #GetNorth2018
During The Great Exhibition, Discovery Museum is part of the Get North Innovation Trail. Designed with families and accessibility in mind; winding through inspiring urban landscapes, stunning historic architecture and the best of popular Northern Culture.
Great Exhibition of the North receives funding from a variety of sources including public and private sector.