Charge! Veteran Takeover
This is a historic exhibition. It is no longer available to visit and this page is only retained as a record of the previous event. For current and future exhibitions, visit our
What's On
page.
Military veterans lead a week of special events in the Charge! gallery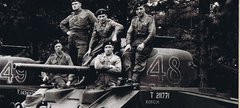 Until 22 February 2019 (historic exhibition)
Throughout half term, meet real-life cavalry veterans, who between them have served with the Household Cavalry, the Queen's Own Yeomanry, 15th/19th The King's Royal Hussars and the 9th Lancers, from the 1950s up to early 2000.
Come along and find out more about their own experiences as cavalry soldiers, and enjoy a guided tour around the gallery.
Monday 18 February, 11am-12.30pm
Veteran guided tour
Tuesday 19 February, 1-3pm (drop-in)
Meet the veteran
Wednesday 20 February, 1.30-3pm
Veteran guided tour
Thursday 21 February, 1-3pm (drop-in)
Meet the veteran
Friday 22 February, 11am-12.30pm
Veteran guided tour