The Congruence Engine project
Discovery Museum is part of a national project to create a new way of working with industrial collections
What is The Congruence Engine project?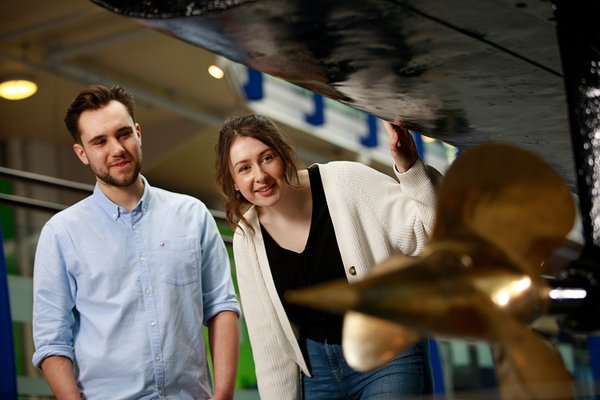 Tyne & Wear Archives & Museums (TWAM) at Discovery Museum is a partner with the national Science Museum Group as co-researcher in a three year research project The Congruence Engine.
The project started in November 2021, and uses the latest digital techniques to connect industrial history collections held in different locations.
It is one of five 'Discovery Projects' funded by the Arts and Humanities Research Council under the 'Towards a National Collection' funding stream.
[Image shows visitors with propeller of Charles Parsons' 'Ocean Greyhound' ship Turbinia]
What are the project aims?
The aim of the project is to create a prototype 'digital toolbox' for everyone fascinated by our industrial past, to connect an unprecedented range of items from the nation's collection to tell the stories about our history that they want to tell.
Historians and curators are accustomed to working with a small selection of the sources from museum objects, archives, pictures, films, maps, or publications, for example – potentially relevant to the history they want to explore.
The software will link up collections using computational and AI techniques, broadening the limits of the histories that can be created and shared with the wider public in museums, publications and online.
We will ask: What was it like then? How does our past bear on our present and future?
The project unites a collaboration of a unique combination of skills and interests - digital researchers are working with community historians and curators.
The new narratives they create will be expressed in the project's mobile digital exhibition space, on its website and popular and academic outputs.
What are the outputs of the project?
Follow the Congruence Engine Blog for updates on the progress of the project, featuring news about what is being discovered, and sharing discussions between project members.
Project participants
Partners of the project are National Museum Wales, National Museums Northern Ireland, Birmingham Museums Trust, The National Archives, National Trust, the V&A, BBC History, BT Heritage & Archives, Grace's Guide to Industrial History, Isis Bibliography of the History of Science, Society for the History of Technology, Saltaire World Heritage Education Association, Whipple Museum of the History of Science (Tools of Knowledge Project), Wikimedia UK and Manchester Digital Laboratory (MadLab).
Co-Investigators include researchers at: Science Museum Group, The British Film Institute, Historic England, National Museums Scotland, Tyne & Wear Archives & Museums and Bradford Museums, and the Universities of Leeds, London and Liverpool, and UCL.
The Congruence Engine is funded by the Arts and Humanities Research Council's Towards a National Collection: Opening UK Heritage to the World fund.