Royal Commission for the Exhibition of 1851
This is a historic exhibition. It is no longer available to visit and this page is only retained as a record of the previous event. For current and future exhibitions, visit our
What's On
page.
A celebratory exhibition that traces the involvement of the North in The Great Exhibition of 1851.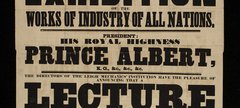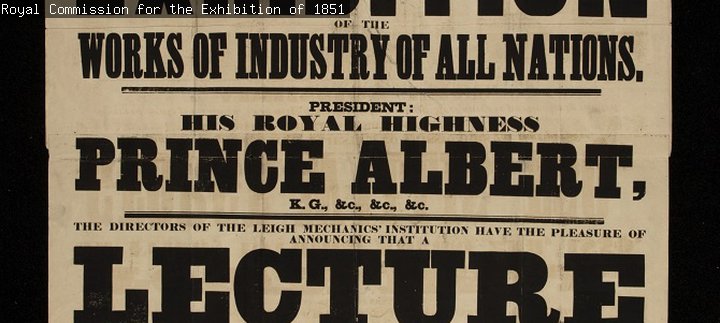 Until 9 September 2018 (historic exhibition)
This celebratory exhibition traces the involvement of the North in The Great Exhibition of 1851, the development of the Commission's London estate and the work carried out by current 1851 sponsored researchers in universities and companies across the North of England.
The Royal Commission for the Exhibition of 1851 was set up to run The Great Exhibition, which they did with huge success, attracting six million people in the six months that it was open. It was the first international exhibition of manufactured products and was enormously influential on the development of many aspects of society including art and design education, international trade and relations, and even tourism.
The Exhibition made a profit of £186,000 which the Commission used to purchase an estate in South Kensington, London. This has since developed into a cultural and educational centre of world renown.
Since 1891 the Commission has supported research in STEM related subjects by offering awards to post graduate and post-doctoral researchers in the fields of science, engineering and design.
---
Presented as part of:
Great Exhibition of the North 22 June - 9 September
Hosted in NewcastleGateshead, on behalf of Northern England, Great Exhibition of the North will be the biggest event in England this year. It is free to attend and will tell the inspiring story of the North of England and how its innovators, businesses, artists and designers have shaped our present and are inspiring our future. Visitors will begin their journey at one of three iconic venues – Great North Museum, BALTIC Centre for Contemporary Art or Sage Gateshead – before joining three trails through world-class venues and public spaces. #GetNorth2018
During The Great Exhibition, Discovery Museum is part of the Get North Innovation Trail. Designed with families and accessibility in mind; winding through inspiring urban landscapes, stunning historic architecture and the best of popular Northern Culture.
Great Exhibition of the North receives funding from a variety of sources including public and private sector.