Hands-on workshop for home ed students to explore the history of invention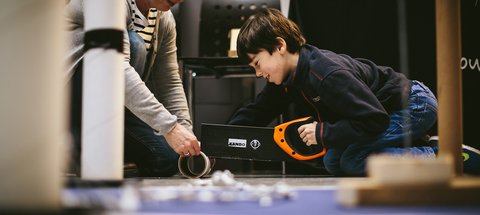 Time
2pm
Price
£6 per child (plus booking fee)
Please note, one ticket purchase entitles one accompanying adult to attend for free.

This event is suitable for children aged 5 – 12 with an adult.

New Inventors is a fortnightly hands-on workshop for home ed students to explore the history of invention and innovation.
Spark your children's creativity by learning about historic inventions from the museum's collections, from world-changing innovations to forgotten gadgets. At each session, children will also be able to build their own inspired creations using unusual upcycled materials from our inventor space. Bring along your thinking caps!
Sessions:
Tues 7 Feb
Secret Communications: code making and breaking
Tues 21 Feb
Power Generation: out with the old and in with the new
Tues 7 Mar
Fun Forces: pulleys and cranks
Tues 21 March
Make Some Noise: noisy inventions and the science of sound
Tues 4 April
Tech-styles: fashionable and functional clothing technology
This event is part of Play + Invent, Discovery Museum's new family programme for budding inventors, designers and makers! For more information visit www.discoverymuseum.org.uk/play-invent