KS2, KS3, KS4, KS5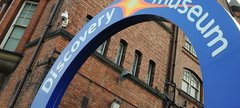 Monday 11th March 2024
Morning session: 10.00-12.00 pm
Afternoon session: 12.30-14.30 pm
Cost: Free of charge
Building on the success of our previous careers fairs we will be inviting a host of local organisations and businesses to share the different careers paths you can take in the Science, Technology, Engineering, Arts and Mathematics sectors.

Organisations include Unipres, Virgin Money, Northern gas, RED, British Engines, and Mortal Fools with more to be confirmed.
Come and explore the different paths you can take.
During each session school groups will have the opportunity to hear from representatives from organisations from STEAM organisations across the North East. Organisations will have stalls throughout the museum for students to circulate around. Many are bringing along interactive elements to engage the students and allow them to learn more about future career opportunities.

When making your enquiry please specify the session you would hope to book and whether you would like a lunch space.