New Inventors
Apply today: Inventor in Residence opportunity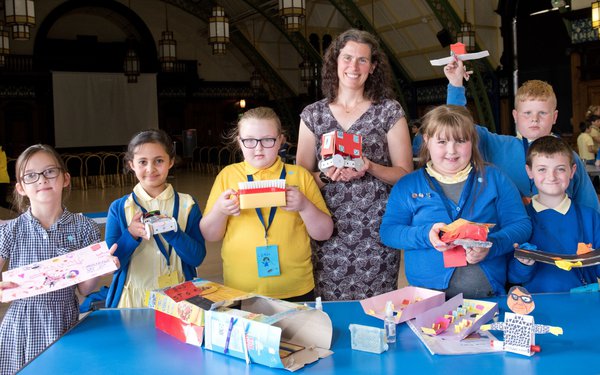 Thanks to funding from the Platten Family Fund at the Community Foundation Tyne & Wear and Northumberland, Discovery Museum is pleased to announce the return of New Inventors, a residency programme working with three practitioners, three primary schools and visitors to the museum over the course of 2018/19 to inspire children to pursue opportunities in STEM.

Discovery Museum is home to one of the finest collections of scientific and technical material outside of London. It tells Tyneside's changing story and showcases the history of the region's longstanding contribution to the generation and use of power with the invention of the National Grid and world firsts from Joseph Swan, inventor of the incandescent light bulb; Charles Parsons, the inventor of the steam turbine which was first applied to generate public electricity in Newcastle and William Armstrong, who in 1880 powered electricity in his home with the world's first domestic hydro generator and was said to have anticipated that the direct conversion of the energy in sunlight to electricity could be possible.
Discovery Museum is seeking to recruit an innovative external practitioner working within contemporary engineering and the wider STEM industry to serve as an Inventor in Residence, who will devise and deliver a bold and exciting programme to continue the story of power with a focus on the theme of the generation of renewable and sustainable energy.
"It has been fantastic to work with the children from Bridgewater Primary. I've watched their confidence, STEM skills, team working and communication skills all improve and it has been a genuine pleasure helping them bring their fantastic ideas to life." Dr Jenny Search, Discovery Museum's first Inventor in Residence.
---
Budget

A fee of £5000 (equivalent to £200 a day for 25 days)
A production budget of £1000 is available for materials and technologies to deliver family and school activity.
We welcome quotations from applicants based in or outside the North East of England (in the UK or internationally) but please note that there is no separate budget for accommodation or travel.
---
Timescale

Entry for submissions is now closed.
Interviews will take place on Monday 10 December 2018, please note, you will be expected to prepare a 30 minute hands-on demo for the interview panel. You will be contacted no later than Tuesday 4 December 2018.
The appointment of the successful candidate will be no later than Wednesday 12 December 2018
The residency will take place across 12 weeks on agreed dates between Monday 7 January and Friday 29 March 2019

---
Submissions
All proposals should be emailed as a PDF or a word document (no more than four pages of A4) with the subject title 'Quotation: New Inventors – Inventors in Residence at Discovery Museum' to Sarah Younas, Digital Programmes Officer at Tyne & Wear Archives & Museums: sarah.younas@twmuseums.org.uk
All proposals should be received no later than 5pm on Friday 30 November 2018.
If you have any queries relating to this brief please contact Sarah Younas by email or on 0191 277 2324.
For further information, download the full project brief (PDF document)