Families - we need your help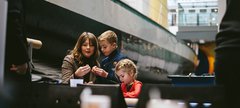 *This is now fully booked - however you can book at the link above to be added to the waiting list*
Free. Booking essential.
Families with children under 5 - 11am – 12.30pm
Families with children aged 5 – 11 1pm - 2.30pm
Please note: 1 ticket covers up to 5 people per family.

Discovery Museum is looking for inspiration. We want to know what makes a great family day out and we need your help! We'd like you to tell us where your top places to visit as a family are, for fun, to eat or just relax are.
We're looking for families to join our Inventor in Residence Matt Wright and devise the most fun, most exciting experience you can imagine. There will be range of specially designed hands-on activities to ensure that all the family can take part.
As a thank you for participating, attendees will receive free tickets to Spooky Night at the Museum at Discovery Museum on Thursday 31st October*.
Lunch will not be provided but please feel free to bring a packed lunch or purchase food from our café to eat in the session.
*Free tickets to Spooky Night at the Museum are subject to attendance, you will receive your tickets via email, approximately one week after the session.