Virtual Workshop KS1 + KS2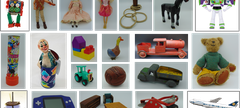 We have limited availability for summer 2022 due to booking cancellations.

Maximum number of students: 1 class

Session Length: 45 minutes
Price: £45
Available from: Jan 2021

KS1 and KS2 workshop

The workshop will take place over your preferred live video call platform. Please note this on you booking enquiry form.
"Thank you very much, that was super and all of the children seemed to be engaged and smiling!"

"That was amazing, we all loved it, thank you so much. It fits so nicely with our history topic"
We have limited availability for summer 2022 due to booking cancellations.

As we are currently unable to offer workshops at the museum, we are offering schools the opportunity to take part in our virtual Toys Through Time workshop.
This will include the following:
Toy Warm Up:

Act like a toy and get your body moving

What is it?

Can you work out what these toys are in the picture reveal challenge?

What is it made from?

Toys are made from all sorts of materials. What are these toys made from? Which material Is best?

Toy Detectives:

C

an you spot the clues that help us work out if a toy is old or new?

Teddy Through Time:

What words can we use to describe these teddy bears? How are they different.

Who am I?

Can you work out which toy we are describing?

Listen up!

Turn on your listening ears. Can you work out which toys make these sounds?

Optical Illusion:

Let's have a look at toys that trick our eyes and minds!
You may also be interested in our Boxes of Delight loans service:
You may want to support your session with one of our downloadable resources.