Play session for under 5s to learn about science and circus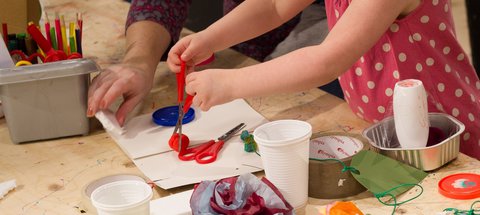 Time:
10.30am-11.30am
Price:
£3.50 per child
OR
£21 for all 7 sessions
This event is suitable for children aged 2 – 4 with an accompanying adult.
There are 12 spaces for children in each session, but each ticket is for one child and one accompanying adult.
Booking essential.
Tiny Sparks is an award-winning weekly play session for young children to investigate science and the Discovery Museum's collection. Come and sing, play, make stuff and have fun!

Spark your children's imaginations with stories about science and curious objects. This is an opportunity for tiny engineering, inventing, discovering, designing and investigating.
Build their aspirations, expand horizons and dream big dreams for who they could be in the future!
This half term the Circus is coming to town! Explore the colourful characters of the circus, investigate the science behind the shows and get your creative circus hat on!
Sessions are £3.50 per child or £21 for all 7 sessions on Wednesday mornings 10:30-11:30 on 7, 14, 21 & 28 November, 5, 12 & 19 December.
This event is part of Play + Invent, Discovery Museum's new family programme for budding inventors, designers and makers! For more information visit www.discoverymuseum.org.uk/play-invent
"A superb introduction to gender equality, science history and women's history… making a real difference in the way that children and young people view the world….A wonderful example of a museum team thinking outside the box."
2017 Women's History Network Community History Prize panel