For 3-5 year olds and their guardians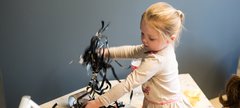 10:30am - 11:30am
Suitable for children aged 3-5 years.
Cost per session, £3.50 per child.
---
Block 1
Week 1 - Wednesday 2nd February

Week 2 - Wednesday 9th February

Week 3 - Wednesday 16th February
February half term - no sessions taking place.
Block 2
Week 1 - Wednesday 2nd March
Week 2 - Wednesday 9th March
Week 3 - Wednesday 16th March
Week 4 - Wednesday 23rd March
Week 5 - Wednesday 30th March
Week 6 - Wednesday 6th April
Advance online booking essential.
Please note these sessions are part of a series. If you wish to attend all sessions, ensure you book each one individually when booking online.

Spark your child's imagination with stories about science and curious objects. This is an opportunity for tiny engineering, inventing, discovering, designing and investigating.
At Tiny Sparks young children aged 3-5 can explore science and museum or archival objects each week through play, activity, song and rhyme.
The perfect place for little ones to socialise and make new friends.
What to expect:
Sessions in February will take place in our Play + Invent Space on the third floor of the museum.
Sessions in March will take place in a location which is to be decided. Our welcome desk will be able to direct you on arrival at the museum.
We recommend arriving early to allow plenty of time to make your way through the museum.
Please wear clothes suitable for messy play. You might like to also bring a spare outfit with you!
We encourage regular hand washing throughout the session.
Only for those with pre-booked tickets.
Only adults accompanying a participating child will be admitted.
Guidelines and rules are regularly changing and we are constantly monitoring the latest advice and updates. Possible changes could effect how the session will take place, but for the moment the above information indicates how we are expecting things to be.