Play session for under 5s to learn about science and inventions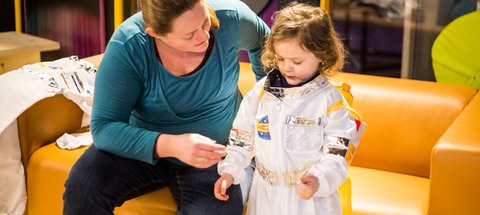 Time:
10am-10.45am
Price:
£3.50 per child
OR
Block book 6 sessions £20 per child
This event is suitable for children aged 2 – 4 with an accompanying adult.
There are 10 spaces for children in each session, but each ticket is for one child and one accompanying adult.

Booking essential.
Tiny Sparks is a fortnightly play session for young children to find out about great scientists and their amazing achievements. Created as part of PLAY+INVENT, Discovery Museum's new family friendly events programme and maker space for budding inventors, designers and makers, Tiny Sparks aims to promote gender equality, spark imaginations and inspire children. Come and sing, play, make stuff and have fun!

From building giant rockets and searching for planets to making a lava lamp, Tiny Sparks will see children playing, learning and making.

Sessions have been created around inspirational females, such as Rachel Parsons, a Tyneside engineer who was one of the first three women to study Mechanical Sciences at the University of Cambridge and Ada Lovelace, a mathematician and the world's first computer programmer.

Spark your children's imaginations with stories about scientific discoveries and inventions. Be inspired by intriguing and curious objects. This is an opportunity for tiny engineering, inventing, discovering, designing and operating.
This event is part of Play + Invent, Discovery Museum's new family programme for budding inventors, designers and makers. For more information visit: www.discoverymuseum.org.uk/play-invent