Five days of science experiments for girls. Booking required.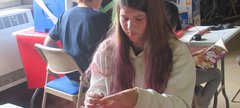 Monday 15 August - Friday 19 August
Time: 10am - 3.30pm daily.

Cost: £150
Additional: £5 per children's lunch per day (if desired, otherwise bring own lunch.)*
Age: suitable for girls aged 10 - 14
Advance booking required.

*For £5 per day the Discovery Museum Cafe can provide a packed lunch. Children's lunch boxes contain: Cheese/ham bun, juice, crisps, biscuit, fruit.
Over the course of five days (Monday-Friday) young people will work with professional science educators to experiment with a variety of science, engineering and technology themes.
Try out chemistry experiments, tinker with robots, create circuits and much more! Be inspired by the Discovery Museum's broad collection and explore and develop your science skills.

If you have any questions please email discoverylearning@twmuseums.org.uk