Street Scientists
Meet science buskers - part of Making Waves: A Festival of Sound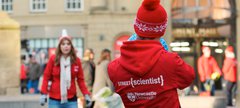 Wednesday 27 October - 11am - 2pm
Saturday 6 & 20 November, 4 December - 11am - 3pm
Find the Street Scientists near Turbinia at the entrance to the museum

Free, just drop in.
Suitable for all the family.
This free event is suitable for all the family and all ages, both young and not so young.
Meet the Street Scientists, Newcastle University's very own science buskers as they bring science to life through interactive sound demonstrations as part of our Making Waves: A Festival of Sound.
The Street Scientists break stereotypes surrounding science sparking an interest in students at a young age to encourage a future career in STEM - Science, Technology, Engineering and Maths - subjects.