*CANCELLED* Story Time: Mr Bunny's Chocolate Factory
*In response to the COVID 19 pandemic this event is cancelled.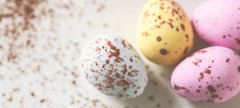 Following new advice in response to the COVID 19 pandemic and in line with other cultural organisations, we have taken the difficult decision to close all of our museums and galleries and the archives from 5pm on Wednesday 18 March.
This is provisionally until 1 May 2020 but we will be reviewing the situation and updating if anything changes.
Please sign up to our emails at mustseemuseums.org.uk and check our social media channels and website so we can keep you up to date with what's going on.
Thank you for your support and understanding at this challenging time. Stay well and we look forward to welcoming you back in due course.
Do you want to know how chocolate eggs are made? Join us as we step inside the story of Mr Bunny's Chocolate Factory to find out more.
After the story take part in Easter crafts and create your very own Sock Bunny to take away.