Become a sonic investigator - part of Making Waves: A Festival of Sound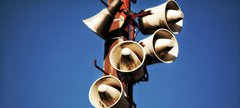 Part of Making Waves: A Festival of Sound
4 single sessions available; £4 per child per session
Accompanying adult tickets are free
Suitable for ages 8 +. Suitable for family groups. At least one adult from the household must be present with participants at all times during these workshops.
Monday 25 October 10:30am – 12:30pm
Monday 25 October 1:30pm – 3:30pm
Tuesday 26 October 10:30am - 12:30pm
Tuesday 26 October 1:30pm – 3:30pm
What you need:
Access to a mobile phone with a microphone or sound recorder
Access to a computer (we will be using Audacity to create sounds on Raspberry PI laptops but you can bring your own Laptop)
A sense of adventure
Join Sonic Investigators Matt and Amy to discover how to capture sounds and manipulate them to create your own personal soundscape.

When we stop and listen to the sounds around us there are many strange and wonderful noises that we might not have noticed.
We want family teams to join us to create a series of sonic pictures of the sounds you find around you during your October half-term.
We'll give you tips and tricks to spot interesting sounds, get the best recordings using your phone or voice recorder. Then you'll be shown you how to digitally manipulate them to produce your very own audio artwork.
You'll learn how to make great recordings using easy to access equipment, as well as the basics of audio engineering using the free editing software Audacity.

Your final work will be uploaded to the Tyne & Wear Archives & Museums Soundcloud platform.