When we stop, and listen, there are noises all around us. Capture these sounds and create your own soundscape.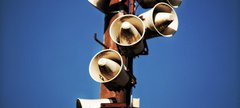 Until Saturday 6 February
We're looking for family teams to help us create a series of sonic 'pictures' of your experience of lockdown. When we stop doing things, and just listen to the sounds around us, it turns out there are loads of strange and wonderful noises going on that we might not have noticed. Join Sonic Investigators Matt and Ruth in a series of workshops where we'll show you how to capture these sounds and manipulate them to create your own personal soundscape.

Across these sessions we'll give you tips and tricks to spot interesting sounds, get the best recordings of them you can using your phone or a voice recorder, and then how to manipulate them to produce your very own audio artwork. Then we can share your work with the world by uploading your track to the Tyne & Wear Archives & Museums Soundcloud account.

You will work with a Freelance Artist and a member of the Discovery Museum Learning team to create some amazing audio art works.
Series of 4 workshops, please check you can attend all sessions before booking, sessions cannot be booked individually.

Sessions will all be online with zoom links sent out nearer the time. Session running time is 1 hour but delivery is 45 minutes, We just want to allow time for any issues joining zoom on the day.
Suitable for ages 8+, please ensure at least one adult from your household is with you at all times during these workshops. Also suitable for the whole family to take part in collectively.

Cost for all 4 sessions £10

Dates:
Saturday 16th Jan 9.30-10.30am
Saturday 23rd Jan 9.30-10-30am
Saturday 30th Jan 9.30-10.30am
Saturday 6th Feb (for the performance of our sound landscapes) 9.30-10.30am

Materials required:
1.Access to a mobile phone with a microphone or sound recorder
2.Access to a computer (we will be using Audacity to create sounds but details of how to download this will be sent prior to the first workshop)
3. A sense of adventure

Session Outlines
Session 1: Introduction to the course and equipment we will be using in these sessions. We will discuss what sound is and carry out some sound mapping exercises. We will discuss the unheard sounds all around us with demonstrations from Matt and Ruth. We will begin to record sounds for future sessions.

Session 2: We will continue with our sound mapping exercises to get warmed up and share sounds we have recorded over the past week, we will then begin to start manipulating sounds using Audacity software and start to combine sounds into music and art. We will have one to one tutorials in breakout rooms and some group work too.

Session 3: More sound mapping to get going and then after sharing sounds we have been working on we will start to look at how to mix full tracks of sounds into an abstract landscape sound response to lockdown. These finished tracks will then be uploaded to the Tyne & Wear Archives and Museums Soundcloud page.

Session 4: This session will focus on performing our soundscapes, you can share the zoom link with friends and family for this session so they can see your live performance. Ruth and Matt will have selected some lovely visual backgrounds to accompany each individual soundscape performance.
For more information please email Ruth Sheldon, Assistant Learning Officer
ruth.sheldon@twmuseums.org.uk