1 session remaining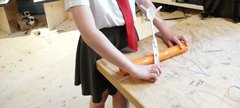 Monday 21 June - Friday 25 June
Monday 28 June - Friday 2 July
Monday 5 July - Tuesday 6 July
Dates:
21st June- Tuesday 6th July
1 class space remaining on 5th July
Charge: £150 per group
1 class per group
Arrival at the museum: 9.45-10.00 am
Session times: 10.00 am - 2.30 pm
Please book early to avoid disappointment.
Discovery Museum welcomes schools back for an exciting full day of science, technology, and engineering investigation.

Over the course of the day, attendees will take part in three STEM workshops and enjoy self-led time around the museum. Students will also receive an activity pack to take away with them.
Workshops will include:
45 minutes- Levers, Gears + Pulleys- Investigate how pulleys and gears allow a smaller force to have a greater effect by exploring the Discovery Museum collection and inventing simple machines.
45 minutes- Steam to Green- Learn about and experiment with

renewable and non-renewable energy sources used on Earth and how they have changed over time.

90 minutes- Hovercraft Challenge-

Investigate circuits, by amazed by

aerodynamics

and develop your understanding of engineering principles. Students will start small and work up to building a hovercraft to carry a person across the

Discovery Museum Great Hall!
Due to the current Covid-19 pandemic, we have made changes to how we run our school events. We want to ensure you're as safe as possible. You'll find:
Fewer school groups in the museum

(maximum of two classes)

You won't be sharing

spaces

with anyone but those within your

class

Spaces

and any shared

equipment

will be cleaned and sanitized between each session

Current face-covering

regulations

will apply to all sessions
Our staff will

maintain social distancing (if applicable)

, but will still be there if you have any questions