Remake a Take
Step inside the movies with this series of playful opportunities celebrating amazing films made in the North.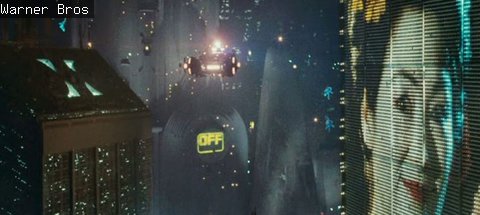 Time
10am - 6pm (seven days a week)
Price
Donations welcome (free entry).
On display in the Turbinia Cafe, inside Discovery Museum.
From Blade Runner to Brief Encounter, the North has inspired generations of audiences and filmmakers. Get behind the scenes of these famous films with a host of hands-on activities.
Follow the Remake a Take movie trail to hunt out a series of interactive film stills featuring scenes from the likes of Get Carter, Billy Elliot and 24 Hour Party People.
Spot the shot! Discover where all your favourite Northern film and television programmes were shot using Northern Film + Media online movie map.
Then grab your mobile and have a go at remaking classic movie scenes using the fun How To Guide.
---
Blade Runner (1982)
Behold, the future has already happened! Or at least you might think it when watching Blade Runner. Ridley Scott's 1982 sci-fi classic has influenced everything from the cyberpunk movement to neon-drenched pop culture. More recently, the film's flying cars can be seen as anticipating the arrival of aerospace company SpaceX, as well as founder Elon Musk's vision of the future — including Hyperloop trains transporting passengers from Edinburgh to London in the space of 30 minutes.
Much of Blade Runner's design was itself indebted to emerging post-war megacities such as Tokyo. A less obvious source of inspiration, however, was Teesside's own dramatic industrial landscape of steelworks, oil refineries and the like — in particular, the Wilton chemical plant in Redcar.
Scott, born in South Shields in 1937, spent his early years in Cumberland, Wales and Germany before his family settled in Hartburn, Country Durham after the Second World War. Blade Runner, his third film, is a textbook example of crafting a fictional world from real experience.
'There's a walk from Redcar into Hartlepool,' says the director. 'I'd cross a bridge at night, and walk above the steelworks. So that's probably where the opening of Blade Runner comes from. It always seemed to be rather gloomy and raining, and I'd just think, "God, this is beautiful."'
Text | Michael Pattison
---
Presented as part of:
Great Exhibition of the North 22 June - 9 September
Hosted in NewcastleGateshead, on behalf of Northern England, Great Exhibition of the North will be the biggest event in England this year. It is free to attend and will tell the inspiring story of the North of England and how its innovators, businesses, artists and designers have shaped our present and are inspiring our future. Visitors will begin their journey at one of three iconic venues – Great North Museum, BALTIC Centre for Contemporary Art or Sage Gateshead – before joining three trails through world-class venues and public spaces. #GetNorth2018
During The Great Exhibition, Discovery Museum is part of the Get North Innovation Trail. Designed with families and accessibility in mind; winding through inspiring urban landscapes, stunning historic architecture and the best of popular Northern Culture.
Great Exhibition of the North receives funding from a variety of sources including public and private sector.