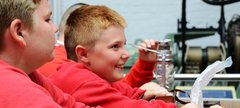 Workshop length: 30-45 minutes
Price: £45

This session will take place on a digital platform. Please state in the enquiry notes which platform you require us to use.
"The sessions were fantastic! They were concise and informative and the kids really enjoyed it."
Sadly we aren't able to see you in person until 2021, but we can still see you virtually.
Have you any burning questions about the amazing inventors from the North East?
In this 30 minute session you will be able to ask our expert educators your questions and get answers, just as though we were in the classroom with you. You will be able to ask us 10 questions.

You might want to link your session with a Box of Delights loan.
We require schools to submit questions one week in advance of the session.
Inventors Include (not necessarily limited to):
- Charles Parsons
- George and Robert Stephenson
- Joseph Swan
- William Armstrong
- Gladstone Adams
- Arthur George