Early Years, KS1 & SEN: Creativity, Science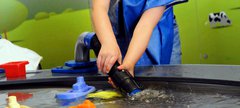 Play Tyne is currently unavailable.
Exclusive use only available 10 – 11am and 1.30 - 2.30 pm on Monday – Friday and must be pre booked at least 1 week in advance.
£50 per hour
Maximum number of students: 30
Play Tyne is currently unavailable.

Play Tyne is a miniature version of the River Tyne and shows it from source to sea. When you are in Play Tyne you can load and unload boats, open and close lock gates to move boats up and downstream. You can also operate models of the three central Tyne crossings; the Gateshead Millennium Bridge, the Tyne Bridge and the Swing Bridge, allowing boats passage on the river and vehicles to cross it. The area is recommended for use by EYFS and KS1 children, however it can also benefit groups of children who have special educational needs.
Booked groups will also have access to our new exploration bags. A contents list can be downloaded from here.