Play on the Plaza
Free, drop-in outdoor events every Thursday in school holidays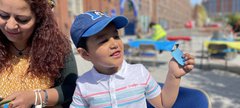 10.00am - 2.00 pm
On the Plaza outside the museum
Free, just drop in.
Most suitable for ages 5+
Every Thursday during the school holidays you'll find free family events on different themes outside on the Museum Plaza.

If you have any questions please email discoverylearning@twmuseums.org.uk

28 July - Families of all ages can join us on the Plaza to play games, build kites and create folding games challengers to take home.

4 August - Join us to investigate light. Take part in shadow tracing, build a camera obscura to see the world upside down and try sun printing.
11 August - Try your hand at a range of games and toys from the past like ring toss, hoop and sticks, skipping ropes and more.
18 August - Build and test straw gliders and paper plate frisbees. How far will yours travel?
25 August - This week we're investigating architecture. Can you build a LEGO™ or K'nex museum? Who can build the tallest tower?
1 September - A wet week! Paint with water and create a water squirt.