KS1, KS2, Science and Tech,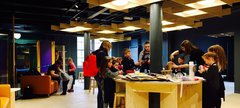 Exclusive use on Monday – Friday and must be pre booked at least 2 weeks in advance.
£50 per hour
Maximum number of students: 30
Visit Our PLAY+INVENT space to make, invent and get creative with your school group. For 1 hour your group can hire this space exclusively with access to all of our extensive range of materials and equipment to explore and build your own creations and inventions. A member of staff will also be present in this space to support the group.
Why not book our Big 5 Inventors tour first to fill your students full of ideas and inspiration before you let them loose making, creating and inventing.
This space must be booked at least 2 weeks in advance.
Maximum 30 children per group
All equipment is provided.