KS1-2 History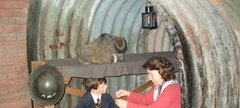 Workshop length: 45 minutes live + downloadable resources
Price: £45
Maximum number of students: 1 class
The workshop will take place over your preferred live video call platform. Please note this on you booking enquiry form.
''Content was great with a good balance of interactive activities and times when the students just needed to listen. The content was pitched at the correct level for the students.''
-Yr6 teacher
As we are currently unable to offer workshops at the museum, we are offering schools the opportunity to take part in our virtual Newcastle during WW2 workshop.
The live session will last 45 minutes and will include the following activities:

1 minute challenge-

Can you use our maps to work out why Newcastle was a target during WW2?

Air Raid Precautions- Action game about the role of ARP's
Air Raid Shelters- introduction

Air raid sound journey-

E

xplore the thoughts and emotions children must have experience

d

during air raids through the medium of sound.
Either
Evacuation

Introduction and

sound journey-

Experience evacuation through sounds. From packing your clothes to arriving

in a strange country village. What can you hear? How are you feeling?

Women during WW2- explore the role of women during WW2 from nursing to shipbuilding.
and either
Mystery object challenge- KS2-

Can you work out what these strange WW2 objects were used for? What clues can you spot?

Which one? -KS1-

Can you work out which objects would be used in WW2 scenarios? What clues can you spot?
Before the session teachers will be offered a ten-minute conversation to discuss the structure of the virtual session, timings of activities as well as other details. Teachers will be provided with a link in advance of the sessions which will provide them with access to the downloadable resources to use before, during and after. If you have any particular requirements please note them on your booking enquiry form.