Mascot Design Challenge
Competition! Design a mascot for the museum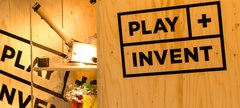 Every Monday, Wednesday and Friday during the summer holidays
Play + Invent 2nd Floor
Free, drop-in
Make your 'Ways to Play' adventure a great value day out by travelling to our venues by the Metro and / or Ferry. Up to three children aged 11 and under can travel for free on the Metro and the Shields Ferry with a fare-paying adult. Metro is the convenient, fast and frequent way to get to your favourite attractions and now it's even more affordable. Find out more.
This summer The Discovery Museum Learning Team would like children to design a mascot for the museum.
You can be creative as you like in your design as long as it links to something on display in the museum - it could be about local history, science, exploring, inventing - the Discovery Museum has so many different things to see and touch.
Could our mascot be a lightbulb? A steam train? Or maybe even a penny lick.
Use the sheets in the Play + Invent space to draw out your design and hang it on the competition washing line.
The winning design, chosen by the team at the museum after the holidays, will be brought to life by our team. The winner will receive a framed image and soft toy of their design.
Ways to Play is sponsored by Tyne and Wear Metro.