Making Waves: Turning up the volume on Tyneside's hidden history
An exploration of sound, featuring the British Library Unlocking Our Sound Heritage project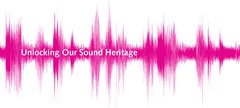 19 September 2021 - 27 March 2022
An exploration of sound including the science of sound, technology, social impact and design.
Sounds featured in the exhibition tell a rich story of the diverse history of our region.
Featuring recordings digitised as part of the British Library Unlocking Our Sound Heritage project – which has preserved sound recordings that were at risk of being lost forever.