Making Waves: Musical sessions with Hartbeeps
Buy tickets
For children sitting to walking. Part of Making Waves: a Festival of Sound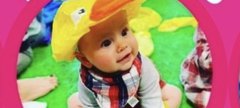 This class focusses on bonding, celebrating becoming a new parent and taking your little ones on a journey.
Expect to have a blissful time exploring ways to play with your child using sound and music.
Hartbeeps' techniques encompass simple ways to play with your child, nurturing their desire to interact and learn new skills which lay the foundation for everything they do.
The classes are created using years of research in child development and the Imaginators are accredited baby massage and baby yoga instructors.
Every class is carefully planned to ensure that grown-ups and babies have a wonderful time, in a supportive environment.
Hartbeeps use clean, baby-safe props and equipment (many of which you can replicate at home) and every class is different, focussing on many different areas of your baby's development.