KS1, KS2 & KS3: Design & Technology, History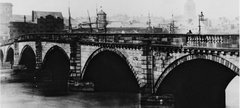 We have limited availability for summer 2022 due to booking cancellations. We still have some spaces available for our Scienceworks event in June if this is of interest.

In this session students will go on a gallery tour to explore the different designs in bridge construction by looking at the bridges over the River Tyne, past and present. The students will then be tasked with a practical bridge building challenge. Younger students will be given a set of resources to construct a bridge with while older students will have a £100 budget to buy materials to construct a bridge.