KS1, KS2 & KS3: History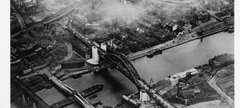 We will be unable to provide facilitated workshops at the museum until the Spring Term, at the earliest. We are currently offering virtual workshops or you can make your own discoveries.

In this interactive gallery tour groups will cover 2000 years of history from the first bridge that was built over the river by the Romans. Groups will learn how bridges like the Swing Bridge played an important role in shaping the city's heritage and how the Tyne has acted as the life blood of the region. This tour is great for supporting topic work focusing on rivers and their impact on the surrounding area.