Virtual Science Workshop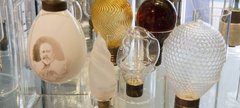 Your package contains:
A 75-90 minute live virtual workshops
A class Let's Invent Circuits kit posted to school

Cost: £70
Maximum number of students: 1 class

Available from: Jan 2021

The workshop will take place over your preferred live video call platform. Please note this on your booking enquiry form.

We require this session to be booked at least two weeks in advance to allow for postage time.
Your Let's Invent: Circuits kit contains all you need to make your own paper torch. Your kit will be posted out to school in advance of your session.
Who is Joseph Swan? What did he invent? How do circuits work? Can we have a go?

Students will discover facts about local inventor Joseph Swan and his most famous invention. Through interactive games and discussion, students will begin to understand how circuits work and what we need to build our own.
Using the materials provided each students will have the opportunity to make their very own paper torch building on the circuit knowledge discussed in the games.
Why not support your session with our downloadable resources. Help Joseph Swan escape the museum with our escape game challenge.