Hope, Pork's Glory and Decline – The Story of German Immigration on Tyneside
Book tickets
A talk by Karl-Heinz Wüstner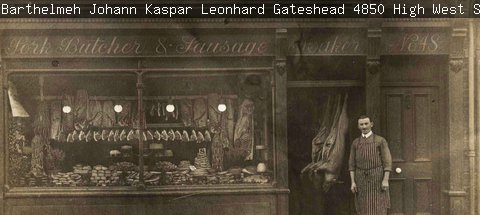 In 1911 one third of the population of Tyneside was immigrant or the child of an immigrant. A significant group of these settlers were German pork butchers - there were scores of them in this area. A number of their businesses still exist in Anglicised form today.
Join historian Karl-Heinz Wüstner for a fascinating and insightful talk about the settlement of German pork butchers during the industrial revolution of the 19th century. Find out why they came and what might have happened to them and their families.
From the mid-1800s the German pork butchers were a significant group of immigrants settling mostly in London and the prosperous cities of northern England.
During this period as more and more women were employed in manufacturing industries they had little or no time to cook. These immigrant butchers were the first to recognise and exploit the emerging need for an alternative supplying the industrial workers and their families with cheap and wholesome meals - the first ever "takeaways".
Interestingly, most of them originated from a small area of Southern Germany to the north east of Stuttgart known as Hohenlohe. The instant success these migrants had, fostered chain migration and by creating close-knit business and family networks they firmly established their trade in the thriving towns and cities across the north.
From lesser beginnings, many achieved significant prominence (and wealth), only to be ostracised following the outbreak of First World War, by the very communities who had previously welcomed them.
This informal lecture will share the beginnings of this extraordinary pork butcher migration movement, why people left their home country and why they were able to prosper in Northern England. Real stories of some of those who settled on Tyneside will illustrate the immigrants' distinct fates.
Perhaps you have a German native, who came here, in your family? The talk will be followed by an opportunity to share your own families' story and to meet and talk with fellow descendants of the German pork butcher dynasty.
Hohenlohe butchers and where they had their shops in the Tyne & Wear area:
Barthelmeh, Johann Kaspar Leonhard
West Sunderland (1897)
Gateshead, 48+50 High West Street
Egner & Sons
South Shields
Fisher, John George
South Shields, 125 Frederick Street
Fisher, Frederick
South Shields, 40 Westoe Road (today it's a shop called Second time Around)
Freihöfer, Friedrich
Newcastle-Wallsend, 136-138 High Street East (today there is a Watson butcher on the premises)
Gräter, Georg Heinrich
Sunderland, 51 High Street East
Hertrich, John
South Shields, 82-84 Mile End Road
Lang, Frederick Sawyer, J. (a successor)
Newcastle (1912), 263 Shields Road
Newcastle (1962), 263 Shields Road (Today it is a shop of Right Mobility)
Sieber, Johann Friedrich
South Shields, 52 Mile End Road
Northern Cultural Projects will display information at this event, from their 'Hunting the Hun' project that looks at the lives of people from German communities in the North East of England before, during and after the First World War. Find out more