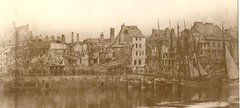 Wednesday 5 October - Friday 7 October
Museum Arrival Time: 10am
Sessions begin: 10.15am
Sessions end: 2:15pm
Museum Departure Time: 2.30pm
Charge per class for the day: £150
Maximum number of students: 32
"On the 6th October 1854 a fire broke out at Wilsons worstead wool factory on the Gateshead side of the river"

Join the Discovery Museum Learning Team for a day of special workshops and activities to learn about the Great Fire of Newcastle and Gateshead.
On the 168th Anniversary week of the Great Fire we will be learning all about this local history event with a day's worth of special sessions for schools. We would love to welcome your class.
By examining objects and archival materials, students will discover what happened and how this fire became just so great. Sessions will include creative writing, drama and actions to retell the story. Students will also gain an understanding of what it would have been like to live in Newcastle and Gateshead during the Victorian era at the time of the fire.
Over the course of the day students will take part in 3 hour long sessions. The day will look something like this:

10am: Arrive at the museum
10:15-11:15am: Session 1
11:15-12:15pm: Session 2
12:15-1pm: Lunch
1:15-2:15pm: Session 3
2.30pm: Leave the museum