KS1-3 History, Literacy, Drama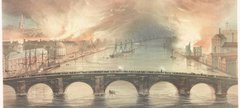 Workshop length: 45 minutes live + downloadable resources
Price: £45
Maximum number of students: 1 class
The workshop will take place over your preferred video call platform. Please note this on your booking enquiry form.

''Whilst never a substitute for visiting in person, this was a really super workshop and I would def recommend!''
-Yr1/2 Teacher
As we are currently unable to offer workshops at the museum, we are offering schools the opportunity to take part in our virtual Great Fire of Newcastle and Gateshead workshop.

This will include the following:
An

introduction

to the story of the Great Fire using images, vid

eo

and sounds

How do we

know?

-

An interactive activity based on sources of information
A sensory exploration

- Create group word cloud art which explore what it would be like to watch the fire from the Tyne bridge

1 Minute challenge

- How many ways can we put out a

fire?

Great Fire soundscape

- create a class soundscape to retell the story of the fire through sound

Access to a range of

downloadable resources

to use in the classroom that build on the workshop learning for 1 month
Before the session teachers will be offered a ten-minute conversation to discuss the structure of the virtual session, timings of activities as well as other details. Teachers will be provided with a link in advance of the sessions which will provide them with access to the downloadable resources to use before, during and after. If you have any particular requirements please note them on your booking enquiry form.
Why not loan the Great Fire of Newcastle and Gateshead box of delights? Find out more here.