A full day of activities for KS1/2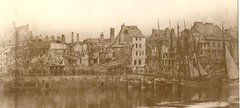 Tuesday 5 October - Friday 8 October
Charge per class: £150
Run Time: 10.00-2.30
Maximum number of children per class: 32
Join us at Discovery Museum to investigate and explore the Great Fire of Newcastle and Gateshead in the week of its 167th anniversary.
Pupils will take part in a range of different activities throughout the day to build their knowledge and understanding of this local historical event. Activities will include:
Object Handling
Puppet Making
Dramatic re-enactments
Sensory Stories
and much more!
Continue your learning with our Great Fire resources.