Environmental Portrait Photography workshop
Buy tickets
With photographer Jeremy Abrahams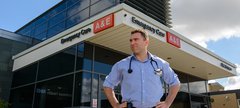 10.30am - 3.30pm, Carpathia Room.
Own camera necessary. Refreshments/ food not provided.
£30 per person. Booking essential.

Join Jeremy Abrahams for a busy day developing your portrait photography skills.
Learn how to use light effectively, create eye-catching compositions and interact effectively with your subject in this workshop.
The day will start with a tour of Jeremy's current Arrivals: Making Tyneside Home exhibition for inspiration, followed by a practical skills workshop and taking pictures.
The workshop ends with post-production work and an opportunity to share your work and engage in participant feedback.