*Currently unavailable* Free, booking essential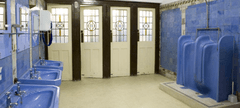 *Currently unavailable*
Free, booking essential. Book when booking your free entry tickets.
For groups of up to 6 people from the same household or support bubble.

If there is nothing available when you're planning to visit we'll try to accommodate you. Please contact the museum on (0191) 2326789 or email info@discoverymuseum.org.uk.
Join one of our knowledgeable tour guides and uncover the heritage of Blandford House, the Discovery Museum building.
Discover its original purpose as the Cooperative Warehouse HQ, the secret war bunker, the hidden Art Deco toilets and experience the breath-taking Great Hall on the fourth floor.