Build a Summer of Fun - Discovery Days
Drop-in family craft activities during the summer holidays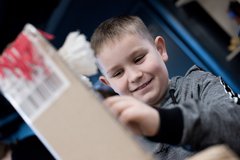 Time:
10am - 2pm (drop-in)
Price:
£1.50 (free crafts also available)
Enjoy craft sessions exploring a new theme every week, including LEGO®, slime jars, sun-catchers and 'back to school' kit.

23 & 25 July: Reactions
Learn all about the science behind slime and, of course, make your very own slime to take away.
30 July & 1 August: Fun in the Sun
This week we are thinking all about light. Make your very own Kaleidoscopes or a LEGO® themed sun catcher.

6 & 8 August: Liquid Science

Explore how inventor Lord William Armstrong made things move using hydraulics. Experiment with Lego cranes and making your own hydraulic card.
13 & 15 August: Robots

Decorate your own walking robot and race it along our track. Have a go at creating your own foil embossed robot.
20 & 22 August: Light and Sound

Fashion your very own light-up bracelet using simple circuits, write secret messages and create castanets.
27 & 29 August: Back to School

Get ready to go back to school by personalising your own pencil case and creating a magnetic bookmark.