Blast Off!
Explore the galaxy with Chalk in a free family event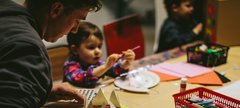 11am - 3pm. Free, drop in, outdoor on the museum plaza
This event is brought to the museum by Chalk.
Suitable ages 4 - 12, everyone welcome
Please note: Every Wednesday during the school break we have free family events on the Plaza brought to the museum on a variety of themes

3…2…1…blast off! Get ready for a space voyage with Chalk as we explore the galaxy.
Design and create your own colourful interplanetary map, try making your own rocket print, create a moon mask and then join our interstellar band for a family jamming session!
Prepare for lift off!